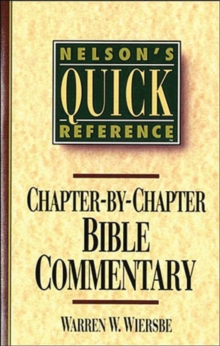 Nelson's Quick Reference Chapter-by-Chapter Bible Commentary : Nelson's Quick Reference Series
0785282351 / 9780785282358
104 x 152 mm, 521 grams 864 pages
End the frustration of being unable to locate a Scripture, find a biblical word definition, or get a historical fact when you need it.
Within this time-saving and convenient Bible commentary, acclaimed Bible teacher Warren Wiersbe takes you through each book of the Bible, chapter by chapter, and makes it easy to:Develop your own Bible reading programMeditate on the Scriptures - seeking the truths God has for youDiscover the rich, life-changing insights Wiersbe has gleaned from Scripture during his own years of walking with the LordUnderstand and apply the spiritual truths you discover"When we read the Bible devotionally, we focus on the spiritual essentials, not the historical or geographical accidentals.
God has often encouraged me from the first chapter of Joshua, but that doesn't mean that I can walk into the Jordan River and expect it to open up before me.However I have seen Him "open up" difficult situations in ministry as I have trusted him.
The Word of God is given to warn us and to offer hope to us.
It can only do these things for us only if we receive the Word personally and let it work in our lives. " W. Wiersbe
BIC: