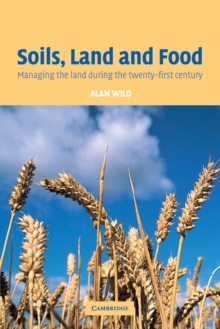 Soils, land and food : managing the land during the twenty-first century
0521527597 / 9780521527590
Usually dispatched within 4 weeks
research & professional Learn More
academic/professional/technical
A major challenge of the twenty-first century will be to ensure sufficient global food production to cope with the burgeoning world population.
Soils, Land and Food is a short text aimed at undergraduates, graduates, agricultural scientists and policy makers which describes how the use of technology in soil management can increase and sustain agricultural production.
The book leads the reader through the development of techniques of land management and discusses reasons why some agricultural projects have succeeded while others have failed.
It shows how surveying and protecting soils before new land is brought into cultivation, raising soil fertility, increasing inputs and improving economic conditions can all help to increase food production.
Particular emphasis is placed on the need for both economic change and technological intervention in developing countries where, in many cases, food production will need to more than double in the next fifty years.
BIC:
PSAF Ecological science, the Biosphere, RNF Environmental management, TQ Environmental science, engineering & technology, TVB Agricultural science