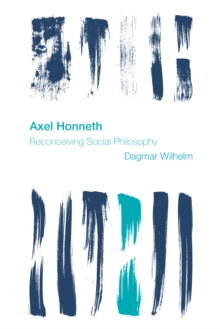 Axel Honneth : Reconceiving Social Philosophy
1783486406 / 9781783486403
Axel Honneth is one of the most influential social and political philosophers in contemporary German political thought and one of the central figures of the third generation of the Frankfurt School.
Honneth's philosophical project presents at once a solution to a problem that has beset Frankfurt School Critical Theory from the first generation onwards, and offers a re-conceptualisation of social philosophy and its methodology in general.
Honneth's work presents a viable alternative to mainstream (especially Rawlsian) political philosophy by taking on challenges mainstream theories tend to avoid. This book provides one of the first substantial critical assessments of Honneth's achievements so far.
Dagmar Wilhelm locates Honneth in critical theory and mainstream political theory debates and offers a detailed exploration of his account of social philosophy, methodology, social pathology, recognition, and humiliation.
The book also includes an in-depth discussion of Honneth's critique of capitalism and programme for the new left and an assessment of the future of the project of the Frankfurt School in light of Honneth's approach.
BIC: