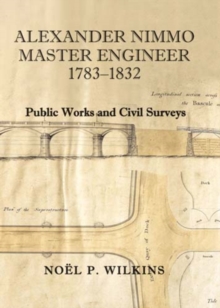 Alexander Nimmo, Master Engineer : Public Works and Civil Surveys
0716529955 / 9780716529958
Usually dispatched within 2 weeks
448 pages, b/w and colour illustrations
2009 is the 200th anniversary of the setting up of the Commission for the Bogs of Ireland.
The Commission was arguably the first attempt by the government of the United Kingdom after the Union to address the infrastructural deficit of Ireland.
The Commission brought to Ireland Alexander Nimmo, friend of Thomas Telford and until then rector of Inverness Academy.
Nimmo spent the rest of his life in his adopted country.
His influence on it was profound, not only in the civil engineering structures he left behind, but in his seminal role in the emergence of the Irish Ordnance Survey, the Office of Public Works, the Hydrographic Survey of Ireland and the Fisheries Commission.This is the first book to tell the life story of this unique and important character and his role in events in early nineteenth century Ireland.
It gives new insights into events and persons of the time never previously covered and questions some long-held beliefs regarding them and the pre-famine period.
Based on four years of research in archives and libraries all over Ireland and Britain, it reveals and explains for the first time, the motivation and full range of his activities in Ireland and Britain.
BIC:
1DBK United Kingdom, Great Britain, 1DBR Ireland, 3JH c 1800 to c 1900, BGT Biography: science, technology & medicine, TN Civil engineering, surveying & building