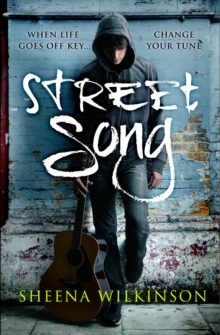 Street song
178530089X / 9781785300899
When life goes off-key, change your tune. RyLee's career is over. After winning a national TV talent show and becoming a teen pop sensation, his fame and success has quickly been followed by addiction, media scrutiny, and career suicide.
After a brief spell in rehab, 18-year-old Ryan has some rethinking to do. His stepdad - music promoter and self-appointed creator of 'RyLee' - wants him at home and in school, and under his thumb.
But after an argument descends into violence, Ryan decides to run away from his old life, his failed career, and his dysfunctional family. When he meets the stunningly witty but distinctly average guitar-player Toni almost directly outside his front door, the opportunity to start afresh seems too good to pass up.
Before long, he has arrived in a new city, joined Toni's amazingly talented band, and reinvented himself under the name 'Cal'.
For the first time in his life Ryan has friends around him, he's playing the music he's always wanted to play, and - despite living in a hostel, busking for his wages, and living under a false identity - he's finally happy. But just when Ryan feels like he has truly started over, his past begins to catch up with him.
BIC:
5AQ Interest age: from c 14 years, YFB General fiction (Children's / Teenage), YX Personal & social issues (Children's / Teenage)