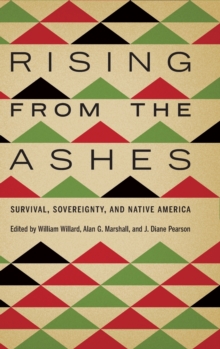 Rising from the Ashes : Survival, Sovereignty, and Native America
1496219007 / 9781496219008
Stock expected by 09/06/2020
152 x 229 mm 348 pages, 4 photographs, 2 illustrations, 8 tables, index
Rising from the Ashes explores continuing Native American political, social, and cultural survival and resilience with a focus on the life of Numiipuu (Nez Perce) anthropologist Archie M.
Phinney. He lived through tumultuous times as the Bureau of Indian Affairs implemented the Indian Reorganization Act, and he built a successful career as an indigenous nationalist, promoting strong, independent American Indian nations. Rising from the Ashes analyzes concepts of indigenous nationalism and notions of American Indian citizenship before and after tribes found themselves within the boundaries of the United States.
Collaborators provide significant contributions to studies of Numiipuu memory, land, loss, and language; Numiipuu, Palus, and Cayuse survival, peoplehood, and spirituality during nineteenth-century U.S. expansion and federal incarceration; Phinney and his dedication to education, indigenous rights, responsibilities, and sovereign Native Nations; American Indian citizenship before U.S. domination and now; the Jicarilla Apaches' self-actuated corporate model; and Native nation-building among the Numiipuu and other Pacific Northwestern tribal nations.
Anchoring the collection is a twenty-first-century analysis of American Indian decolonization, sovereignty, and tribal responsibilities and responses.
BIC:
HBTB Social & cultural history, JFSL9 Indigenous peoples, JHMC Social & cultural anthropology, ethnography