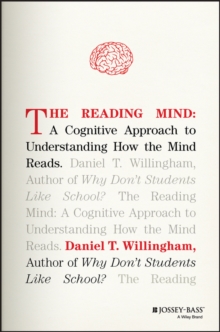 The reading mind : a cognitive approach to understanding how the mind reads (First edition)
1119301378 / 9781119301370
24 cm xvii, 233 pages : illustrations (black and white), maps (black and white)
PRAISE FOR THE READING MIND "Willingham's ability to make cognitive research on reading coherent and comprehensible is exceptional.
This book should be standard fare in every doctoral education course on reading." Isabel L.
Beck, Professor Emerita, School of Education, University of Pittsburgh "This is another of Willingham's essential books for educational professionals, and anyone else interested in the reading process telling them the cognitive science and practical implications of research in the domain of reading.
No one does this kind of book better than Willingham!" Keith E.
Stanovich, author of Progress in Understanding Reading and The Rationality Quotient "Willingham captures the magic of reading while simultaneously demystifying how we read.
He brings key experimental findings to light as he takes us on the journey from recognizing individual words to constructing meaning from text.
Beautifully written, clear and accessible, yet still embracing complexities rather than shying away from them this book is essential reading for anyone interested in how we read." Kate Nation, professor of Experimental Psychology, University of Oxford; fellow and tutor in Psychology, St. John's College "What goes on in the mind as we read?
How do people learn to read? What motivates some to read more than others? For those curious about these questions, and for those who care about children learning to read and growing as readers, this delightful book explains this highly complex topic through fascinating studies and lively examples.
With probing questions included, The Reading Mind will make a terrific book club read or textbook." Ellen McIntyre, dean and professor, College of Education, University of North Carolina, Charlotte "Willingham's work will deepen your understanding of the many facets of reading and literacy, as well as how the brain processes what amounts to an astoundingly complex and historically unlikely process.
This book should be required reading for anyone with a vested interest in the written word." Kristofor Lauricella, History teacher, High School for Youth & Community Development, Brooklyn, New York
BIC: