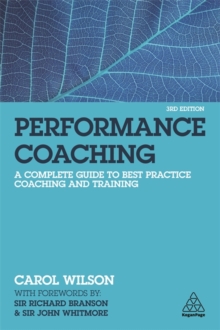 Performance coaching : a complete guide to best practice coaching and training (Revised third edition)
1789664497 / 9781789664492
Professional & Vocational Learn More
Tertiary Education (US: College)
Performance Coaching is a complete resource for improving organizational and employee performance through coaching.
Full of tips, tools and checklists, it covers all the fundamental elements of the coaching process, from developing the skills needed to coach effectively, to coaching in leadership, cross-cultural coaching and measuring return on investment.
It also explores the key techniques and models in the field, from 360-degree feedback to Neuro-linguistic programming (NLP), to allow readers to identify which approach is most suited to specific situations.
Featuring case studies from organizations including Virgin, Johnson & Johnson and IKEA showing how effective coaching approaches have been applied in practice, this book is for coaches of all levels of experience, as well as HR managers and leaders looking to embed a coaching culture in their organizations. This revised third edition of Performance Coaching has been updated to include the latest insights and developments and contains new chapters on distance coach training and peer leadership in the workplace and new material on neuroscience in coaching, coaching in education, managing difficult conversations and stakeholder mapping.
BIC: