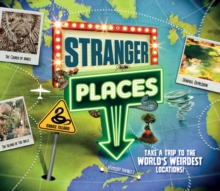 Stranger places
1783125039 / 9781783125036
23 x 26 cm 64 pages : illustrations (black and white, and colour), maps (colour)
Travel around the world in this fascinating book, which explores some of the strangest and spookiest places on Earth!
From an island in Japan that is filled with creepy dolls, to a town that is so overrun with spiders its residents are forced to eat them, via a vast 70-metre-wide crater that is always on fire, you'll never believe some of the places featured in these pages!
Planet Earth is full of weird and wonderful places - and it's time to visit them!
Stranger Places is packed full of fearsome forests, haunted hospitals and freaky waterfalls.
These are places that you've never heard of but that will blow your mind!
We're talking nature's nasties: glaciers that bleed, mountains that eat people, islands infested with deadly snakes and beaches suffocated by giant spiderwebs.
Each featured location has been given a creep-o-meter rating - prepare to be scared!
BIC: