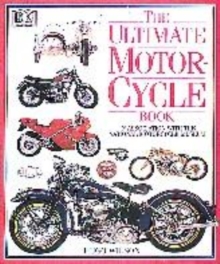 The ultimate motorcycle book
0751306533 / 9780751306538
Usually dispatched within 2 weeks
29 cm 192p. : ill. (chiefly col.)
Reprint. Originally published: 1993.
What bike can do a quarter of a mile (400m) from a standing start in nine seconds?
Why were early Harleys named Peashooter and Knucklehead?
Do you know the difference between a two-stroke and a four-stroke engine?
The Ultimate Motorcycle Book provides all the answers as it chronicles the development of the motorcycle from the 1885 Daimler to the Yamaha of today.
Superb Photo-Catalogue of Bikes Over 600 photographs capture the essence of more than 200 classic and contemporary motorcycles from museum and private collections around the world.
Shown from every angle and in close-up detail the bikes' design and performance features are identified and highlighted as never before.
At-a-glance technical specification panels together with archive and dramatic sporting images complete every picture.
Technical Photo-Analysis The Ultimate Motorcycle Book shows you exactly how a bike works.
Annotated photographs of each section of the machine and step-by-step diagrams explain the principles behind the mechanics.
Exploded photo-diagrams of the component parts of each section reveal the internal workings in detail.
The definitive visual guide to over 100 years of motorcycle design and technology The Ultimate Motorcycle Book is essential reading for all motorcycle enthusiasts.
BIC: