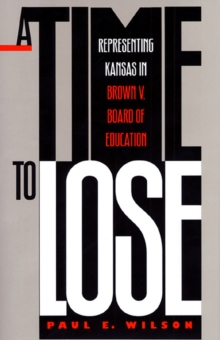 A Time to Lose : Representing Kansas in Brown vs Board of Education
0700607099 / 9780700607099
Usually dispatched within 4 weeks
248 pages, 16 photographs
General (US: Trade) Learn More
Professional & Vocational
Postgraduate, Research & Scholarly
Undergraduate
This thoughtful and engaging memoir opens up a previously hidden side to what many consider the most important Supreme Court decision of the twentieth century.
With quiet candor Paul Wilson reflects upon his role as the Kansas assistant attorney general assigned to defend the indefensible--the policy of separate but equal that was overturned on May 17, 1954, by Linda Brown's precedent-shattering suit.
The Brown decision ended legally sanctioned racial segregation in our nation's public schools, expanded the constitutional concepts of equal protection and due process of law, and in many ways launched the modern civil rights movement.
Since that time, it has been cited by appellate courts in thousands of federal and state cases, analyzed in thousands of books and articles, and remains a cornerstone of law school education.
Wilson reminds us that Brown was not one case but four-including similar cases in South Carolina, Virginia, and Delaware-and that it was only a quirk of fate that brought this young lawyer to center stage at the Supreme Court.
But the Kansas case and his own role, he argues, were different from the others in significant ways.
His recollections reveal why. Recalling many events known only to Brown insiders, Wilson re-creates the world of 1950s Kansas, places the case in the context of those times and politics, provides important new information about the state's ambivalent defense, and then steps back to suggest some fundamental lessons about his experience, the evolution of race relations, and the lawyer's role in the judicial resolution of social conflict.
Throughout these reflections Wilson's voice shines through with sincerity, warmth, and genuine humility.
Far from a self-serving apology by one of history's losers, his memoir reminds us once again that there are good people on every side of the issues that divide us and that truth and meaning are not the special preserve of history's winners.
BIC:
1KBB USA, JFFJ Social discrimination & inequality, JFSL Ethnic studies, JNL Schools