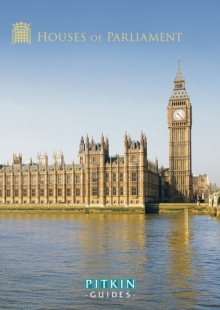 Houses of Parliament
1841651818 / 9781841651811
Stock expected by 12/06/2020
172 x 240 mm, 110 grams 36 pages, Over 50 photographs & illustrations
For over 700 years, Westminster has been a cradle of democracy, culminating today in the Houses of Parliament situated within the Palace of Westminster.
The building combines the historic site of the old palace with modern craftsmanship, displaying the nation's history while also housing a busy Parliament.
This guidebook introduces the many marvellous aspects of the building as well as the history and tradition housed within it.
Learn about the origins of the building, in fact the New Palace of Westminster, from the 16th century, designed by Charles Barry in the mid-19th century in a Perpendicular Gothic style.
Explore the pageantry of the State Opening, the famous hub of the building, the Central Lobby with its famous ornate gold octagonal roof and many more fascinating details.
BIC:
1DBKESL London, Greater London, WTHM Museum, historic sites, gallery & art guides