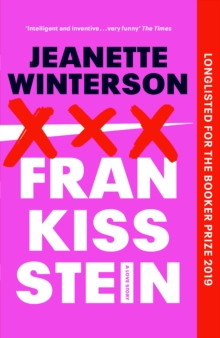 Frankissstein : a love story
1784709956 / 9781784709952
Reprint. Originally published: London: Jonathan Cape, 2019.
***LONGLISTED FOR THE BOOKER PRIZE 2019*****SHORTLISTED FOR THE COMEDY WOMEN IN PRINT PRIZE 2020****LONGLISTED FOR THE POLARI PRIZE 2020**'Beware, for I am fearless and therefore powerful.'Inspired by Mary Shelley's gothic classic Frankenstein, discover this audacious new novel about the bodies we live in and the bodies we desire. As Brexit grips Britain, Ry, a young transgender doctor, is falling in love.
The object of their misguided affection: the celebrated AI-specialist, Professor Victor Stein.
Meanwhile, Ron Lord, just divorced and living with his Mum again, is set to make his fortune with a new generation of sex dolls for lonely men everywhere. Ranging from 1816, when nineteen-year-old Mary Shelley pens her radical first novel, to a cryonics facility in present-day Arizona where the dead wait to return to life, Frankissstein shows us how much closer we are to the future than we realise. 'Intelligent and inventive...very funny' The Times 'One of the most gifted writers working today' New York Times
BIC:
1DBKEN North West England, 1DBKESL London, Greater London, 1DFH Switzerland, 1KBBWZ Arizona, 3JH c 1800 to c 1900, 3JJ 20th century, 3JM 21st century, FA Modern & contemporary fiction (post c 1945), FK Horror & ghost stories, FL Science fiction, FRD Adult & contemporary romance, FRH Historical romance