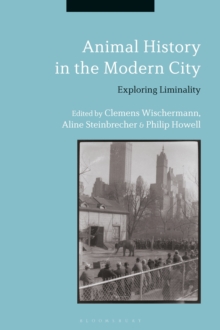 Animal history in the modern city : exploring liminality
1350054038 / 9781350054035
Usually dispatched within 4 weeks
24 cm 264 pages : illustrations (black and white)
Animals are increasingly recognized as fit and proper subjects for historians, yet their place in conventional historical narratives remains contested.
This volume argues for a history of animals based on the centrality of liminality - the state of being on the threshold, not quite one thing yet not quite another.
Since animals stand between nature and culture, wildness and domestication, the countryside and the city, and tradition and modernity, the concept of liminality has a special resonance for historical animal studies. Assembling an impressive cast of contributors, this volume employs liminality as a lens through which to study the social and cultural history of animals in the modern city.
It includes a variety of case studies, such as the horse-human relationship in the towns of New Spain, hunting practices in 17th-century France, the birth of the zoo in Germany and the role of the stray dog in the Victorian city, demonstrating the interrelated nature of animal and human histories. Animal History in the Modern City is a vital resource for scholars and students interested in animal studies, urban history and historical geography.
BIC:
HBJD European history, HBTB Social & cultural history, HBTP Historical geography, JFFZ Animals & society, RGC Human geography