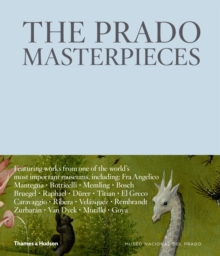 The Prado masterpieces
0500970742 / 9780500970744
33 cm 493 pages (some folded) : illustrations (colour)
Illustrations on lining papers.
The Museo del Prado is the main Spanish national art museum, located in central Madrid.
It features one of the world's finest collections of European art, based on the former Spanish Royal Collection, and unquestionably the best single collection of Spanish art.
Founded as a museum of paintings and sculpture in 1819, it also contains important collections of other types of works.
El Prado is one of the most visited sites in the world, and is considered one the greatest museums of art in the world.
The numerous works by Francisco de Goya, the single most extensively represented artist, as well as by Diego Velazquez, El Greco, Titian, Peter Paul Rubens and Hieronymus Bosch are some of the highlights of the collection. Comprehensively showcasing the permanent collection of the Prado, this magnificent book is the first of its kind to be published by the Prado Museum, covering the collection from Ancient Sculpture to the 19th century.
The book is arranged chronologically by the date of the artworks featured, creating a rich dialogue between artists from different schools working in the same period.
There are sections looking in depth at specific painters (Velazquez, Titian, Greco and Bosch), and at the themes of still life, portraits and religious paintings. The Prado Masterpieces can be read as a complete history of art, as illustrated by the careful selection of highlights from the Prado's Collection.
BIC:
1DSE Spain, AC History of art / art & design styles, AGC Exhibition catalogues & specific collections