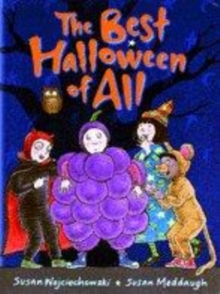 The best Halloween of all
0744563275 / 9780744563276
23 cm [25]p. : chiefly col. ill.
Susan Wojciechowski 's "The Miracle of Jonathan Toomey" won the Kate Greenaway Medal and a Christopher award in the USA.
Every Halloween, Ben has hated his uncomfortable costumes and they ruined his fun.
Now that he is seven he has constructed his own costume - an intergalactic-space-starship robotron, with a laser-pulverizer beam rod.
In other words he wears a grocery bag and carries some paper towel tubes.
BIC: