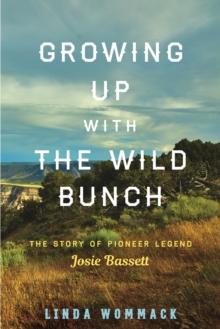 Growing up with the wild bunch : the story of pioneer legend Josie Bassett
1493047159 / 9781493047154
24 cm 144 pages : illustrations (black and white)
The life of Josie Bassett was nothing short of a female pioneer adventure.
Josie came west in a wagon train at the age of four.
Settling in rugged Brown's Park in the extreme northwest corner of Colorado, Josie learned to ride and rope by the age of six.
Like all girls, as a young teenager she discovered boys, but Josie's first real boyfriend was a future outlaw, none other than Butch Cassidy.
As a young rancher's wife with two young boys, Josie witnessed first-hand the strong-arm tactics of the cattle barons trying to steal the land from smaller ranch owners.
When it happened to the Bassett family, Josie's husband and father fought back.
Murder occurred at the ranch when a man was hung from the gate post at the entrance of the Bassett ranch. Following a bitter divorce and a few more marriages, Josie moved to the remote area of Cub Creek in western Utah.
Here she managed to make a living by hunting, making moonshine and possibly cattle rustling. (She was brought up on charges but acquitted.) Josie married a few more times, running off one husband with a frying pan.
He later said, "Josie gave me fifteen minutes to get off her land, I only needed five!"Josie was the feature of a LIFE magazine article in 1948 and was a rodeo queen when she was in her 70s.
Josie Bassett lived a long adventurous life, dying in 1963.
BIC:
1KBBW Western & Pacific Coast states, BG Biography: general, HBJK History of the Americas, JFSJ1 Gender studies: women