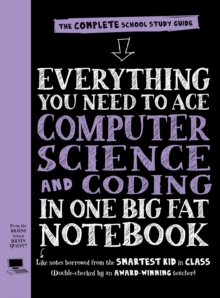 Everything You Need to Ace Computer Science and Coding in One Big Fat Notebook
0761196765 / 9780761196761
146 x 203 mm 576 pages, Full colour illustrations
Released just three years ago, The Big Fat Notebooks revolutionised the study guide for upper-middle-grade readers, and students, parents, and teachers responded - the series has nearly 4 million copies in print with sales escalating every year. Now introducing Everything You Need to Ace Computer Science and Coding, an essential new title with the potential to run hand-in-hand with - or even outrun - Math (over 1.3 million copies in print) and Science (925,000 copies in print) as the next critical STEM companion. Instruction is presented in the simple but powerful format of the previous Big Fat Notebooks.
The key concepts of coding and computer science easily digested and summarised, with critical ideas clearly explained, doodles that illuminate tricky concepts, and quizzes to recap it all.
Kids will explore the concepts of computer science, learn how websites are designed and created, and understand the fundamentals of coding with Scratch, Python, HTML, and CSS.
Written by Grant Smith, a computer science education expert - and vetted by an award-winning computer-science teacher - this Big Fat Notebook is for every student who is either taking computer science in school or is a passionate code warrior
BIC:
YQTU Educational: IT & computing, ICT, YQZ Educational: study & revision guides