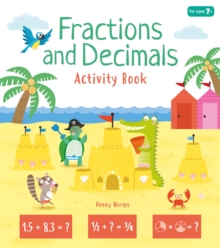 Fractions and Decimals Activity Book
1838579885 / 9781838579883
230 x 260 mm 96 pages, Paperback
Children can take their first steps into the world of fractions and decimals with this beautifully illustrated, full-colour activity book.

With over 80 fun activities to complete, this book will help support kids using fractions and decimals in a variety of different sums. Gradually they will increase their speed, confidence, and proficiency, with friendly animal characters to guide them on their way!

Activities include:
• Help Cinderella identify the odd-pumpkin out by solving fraction sums
• Choose the path of the cycling course by following the increasing decimals
• Look at the colourful fish to learn about percentages

These books are designed such that they can both support those readers who are nervous of maths, and provide a structured way for gifted youngsters to stretch themselves. Designed specially for readers aged 7+.

ABOUT THE SERIES: Arcturus Math Skills Workbooks are a series of mathematical activity books which provide a fun and friendly way for young readers to pick up new numeracy skills, brilliantly illustrated in full-colour by Kasia Dudziuk.
BIC:
5AH Interest age: from c 7 years, YBG Interactive & activity books & packs, YQM Educational: Mathematics & numeracy