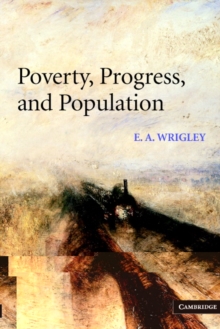 Poverty, progress and population
0521529743 / 9780521529747
Usually dispatched within 4 weeks
By the early nineteenth century England was very different economically from its continental neighbours.
It was wealthier, growing more rapidly, more heavily urbanised, and far less dependent upon agriculture.
A generation ago it was normal to attribute these differences to the 'industrial revolution' and to suppose that this was mainly the product of recent change, but no longer.
Current estimates suggest only slow growth during the period from 1760 1840.
This implies that the economy was much larger and more advanced by 1760 than had previously been supposed and suggests that growth in the preceding century or two must have been decisive in bringing about the 'divergence' of England.
Sir E. A. Wrigley, the leading historian of industrial Britain, here examines the issues which arise in this connection from three viewpoints: economic growth; the transformation of the urban-rural balance; and demographic change in the seventeenth and eighteenth centuries.
BIC:
HBJD1 British & Irish history, HBLH Early modern history: c 1450/1500 to c 1700, HBLL Modern history to 20th century: c 1700 to c 1900, HBTB Social & cultural history, JHBD Population & demography, KCZ Economic history