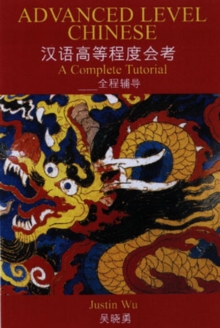 Advanced Level Chinese : A Complete Tutorial
0715637088 / 9780715637081
There is one Chinese A Level available in the UK, set by the Edexel examination board.
A level student numbers are around 2000 and rising as China makes its presence felt in the world economy.
Moves to encourage the learning of non-traditional foreign languages such as Chinese in schools have recently led to considerable interest in educational circles and in the press, which can only increase.
This comprehensive textbook covers the complete Chinese A Level course.
Keeping in mind the needs of students who may experience varying levels of teaching, it places particular emphasis on the more advanced A2 level of the course, giving plenty of help with cultural background and history, and with the assigned literature.
It is also ideal for those studying Chinese for the International Baccalaureate and generally in higher education. Major features of the book include:carefully structured exercises to improve comprehension and translation skills; intensive training in essay writing; help with understanding Chinese traditions of Confucianism and Taoism and recent historic events as essential background to reading the assigned set texts; and, full coverage of the assigned set texts, including context, analysis and exercises.
BIC:
2GDC Chinese, 4KL Designed / suitable for A & AS Level, CJB Language teaching & learning material & coursework