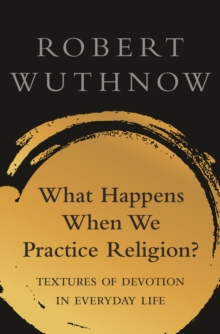 What Happens When We Practice Religion? : Textures of Devotion in Everyday Life
0691198586 / 9780691198583
Stock expected by 12/06/2020
An exploration of the interdisciplinary methods used to understand religious practiceReligion is commonly viewed as something that people practice, whether in the presence of others or alone.
But what do we mean exactly by "practice"? What approaches help to answer this question? What Happens When We Practice Religion? delves into the central concepts, arguments, and tools used to understand religion today. Throughout the past few decades, the study of religion has shifted away from essentialist arguments that grandly purport to explain what religion is and why it exists.
Instead, using methods from anthropology, psychology, religious studies, and sociology, scholars now focus on what people do and say: their daily religious habits, routines, improvisations, and adaptations.
Robert Wuthnow shows how four intersecting areas of inquiry-situations, intentions, feelings, and bodies-shed important light on religious practice, and he explores such topics as the role of religious experiences in sacred spaces, gendered social relationships, educational settings, the arts, meditation, and ritual. Suitable for undergraduate and graduate courses, What Happens When We Practice Religion? provides insights into the diverse ways that religion manifests in ordinary life. Summarizes the latest theories and empirical methods of religious practiceShows how the study of religion has changedIncludes chapters on theory, situations, intentions, feelings, and bodiesDraws from anthropology, psychology, religious studies, and sociologyAccessible for undergraduate and graduate courses
BIC: