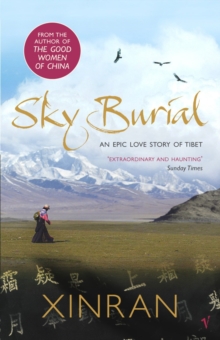 Sky burial
0099461935 / 9780099461937
Reprint. This translation originally published: London: Chatto & Windus, 2004.
Xinran's extraordinary second book takes the reader right to the hidden heart of one of the world's most mysterious and inaccessible countries.
In March 1958, a Chinese woman learns that her husband, an idealistic army doctor, has died whilst serving in Tibet.
Determined to know what has happened to him, she sets off courageously to join his regiment.
To her horror, instead of finding a Tibetan people welcoming their Chinese 'liberators', she walks into a bloody conflict, with the Chinese subject to terrifying attacks from Tibetan guerrillas.
Before she can know her husband's fate, she is taken hostage and embarks on a life-changing journey through the Tibetan countryside - a journey that will last twenty years and lead her to a deep appreciation of Tibetan culture in all its beauty and brutality.
She meets travellers who tell stories of a stranger given a Tibetan sky burial (his corpse left in the open where sacred eagles come down to take pieces up to paradise). Tragically, when she finally discovers that her husband sacrificed himself to create peace between two fatally different societies, she must carry her knowledge back to a China that, in her absence, has experienced the Cultural Revolution and changed beyond recognition...
BIC:
1FPCT Tibet, BGA Autobiography: general, BTP True stories of heroism, endurance & survival, WTL Travel writing