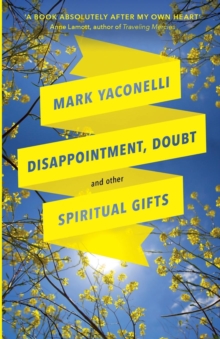 Disappointment, Doubt and Other Spiritual Gifts
0281076502 / 9780281076505
An honest, heartfelt and ultimately deeply hopeful collection of stories and reflections on the author's own woeful inability to be the perfect Christian.
Acclaimed Christian writer and speaker Mark Yaconelli talks of his own failures and disappointments in Christian life and ministry, in order to offer others hope for the future.
From the preface: 'We fall in holes. Plans fall apart. Dreams die. Faith disappers. Suffering is real. We need help to recalibrate our lives back to our compassionate, God-trusting selves.
Often we need safe, creative space and trusted companions in order to move through painful and disorienting experiences.
My hope is that the chapters in this book might provide that same creative compasionship ...What I'm offering are stories, personal experiences, honest reflections and practices that might help you move out of the hurt and disappointment for a moment and remember your deeper capacities for love and generosity.
These are the same stories and practices that have helped me to receive my own failings and sufferings as spiritual gifts.'
BIC:
HRCS Christian spirituality & religious experience, HRCV Christian life & practice