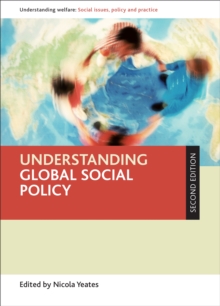 Understanding global social policy (Second edition)
1447310241 / 9781447310242
Usually dispatched within 4 weeks
24 cm xviii, 318 pages : illustrations (black and white)
Building on the successes of Understanding Global Social Policy (Yeates ed. 2008) and its companion text, the Global Social Policy Reader (Yeates and Holden ed. 2009), the second edition of this leading textbook in social policy identifies and reviews the key issues, debates and priorities for action in global social policy as a field of academic study and research and as a field of political practice and action.
All first edition chapters have been systematically revised and updated to reflect major developments in the fast-paced area of global social policy making over the past five years, and include new material on the Millennium Development Goals, the Social Protection Floor and the 'greening' of global social policy.
This much-needed second edition includes new chapters on global poverty and inequality, social protection, criminal justice and education.
Written by an international team of leading social policy analysts , Understanding Global Social Policy is the leading textbook in the field and provides a comprehensive and accessible overview of international actors and social policy formation in global context.
It is essential reading for undergraduate and postgraduate students, researchers, policy makers and practitioners seeking to identify key issues in contemporary social policy and locate them within a global framework of analysis and action.
BIC:
JFF Social issues & processes, JKS Social welfare & social services, JPQB Central government policies