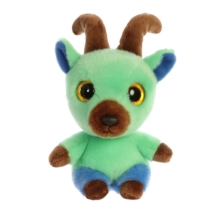 YooHoo Kicks Alpine Ibex Soft Toy 12cm
1S8UIYZ3O / 5034566610996
Usually dispatched within 4 weeks
This adorable kicks Alpine ibex is Green in colour and it measures at 5in Tall.
With many new characters added to its original line up, Auroras most popular collection has been completely revamped.
The new yoohoos will charm you with their brand new and vibrant colours.
To achieve a unique crystallised effect, The big and sparkly eyes have also been redesigned by our industry leading designers.
Made in a sitting position and crafted in luxurious plush, the YooHoo makes for a great cuddle buddy and perfect for any play time.
BIC: