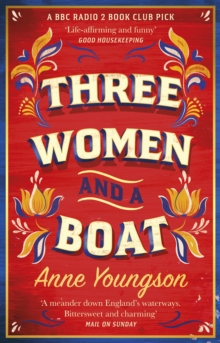 Three women and a boat
1784165336 / 9781784165338
20 cm 326 pages : illustration (black and white), map (black and white)
Reprint. Originally published: London: Doubleday, 2020.
Tender and humorous novel of second chances and life-changing new friendship for fans of Rachel Joyce, Clare Chambers and Barbara Pym'Life-affirming and funny' GOOD HOUSEKEEPING'Anne Youngson's witty and elegant novel is a celebration of friendship and a timely reminder that it is never too late to take on a life-changing new challenge' DAILY MAILMeet Eve, who has departed from her thirty-year career to become a Free Spirit; Sally, who has waved goodbye to her indifferent husband and two grown-up children; and Anastasia, a defiantly independent narrowboat-dweller, suddenly vulnerable as she awaits a life-saving operation. Inexperienced and ill-equipped, Sally and Eve embark upon a journey through the canals of England, guided by the remote and unsympathetic Anastasia.
As they glide gently - and not so gently - through the countryside, the eccentricities and challenges of canalboat life draw them inexorably together, and a tender and unforgettable story unfolds.
Disarmingly truthful and narrated with a rare wit, THREE WOMEN AND A BOAT is a journey over the glorious waterways of England and into the unfathomable depths of the human heart by an inspirational new talent now in her seventies. **********What customers are saying:'Moving, tender and just a balm for the soul' *****'Perfect for those in need of an uplifting read' ****'A warm and enjoyable read' *****
BIC: