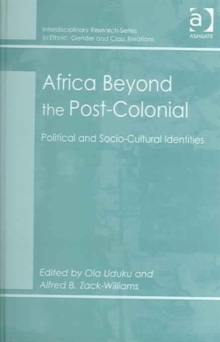 Africa beyond the post-colonial : political and socio-cultural identities
0754631710 / 9780754631712
Usually dispatched within 2 weeks
general Learn More
postgraduate
research & professional
Drawing together contributions from academics based in Africa and its diaspora, this work is unique in considering the situation and status of Africans globally.
It explores a broad range of contemporary issues - from development and culture to linguistics - within the socio-political framework of Africa in the 21st century.
The poor economic performance of some African countries since independence has been a major concern to both African leaders and policy makers.
This volume situates Africa within its historic and socio-political background: from the 1960s, the decade of independence, through to its development outlook as the new millennium unfolds.
Whilst analyzing recent economic, cultural and political changes within Africa, and globally, the contributors identify and examine issues that are common both to Africa and the diaspora.
BIC:
1H Africa, JFSL3 Black & Asian studies, JHMC Social & cultural anthropology, ethnography, JP Politics & government