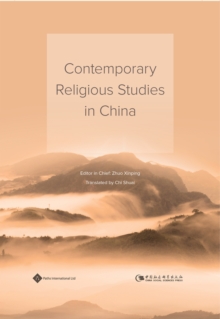 Contemporary Religious Studies in China
1844645835 / 9781844645831
When looking back at history, we realize the huge accomplishment of contemporary China, and the remarkable spirit of the Chinese people.
Just as in other areas, the achievements of contemporary Chinese academic development are fully manifested in the research and results of contemporary Chinese religious studies.
There is special academic value and practical significance for the development and the future of Chinese religious studies to reexamine this period of history and explore how contemporary Chinese scholars think about it. During the academic development of contemporary China, religious studies has become one of the most developed and popular as well as one of the most controversial subjects.
This is because religious studies have been situated in a complex background, and it is difficult to have a well-situated position with broad spectrums and sensitive questions.
Hence, religious studies is one of the subjects that is growing.
The understanding of its connotation and extension is still on the way.
The full development of religious studies as a discipline will represent the real leap of Chinese religious studies.
BIC: