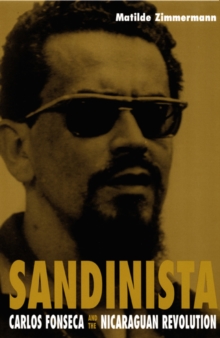 Sandinista : Carlos Fonseca and the Nicaraguan Revolution
0822325950 / 9780822325956
Stock expected by 06/12/2021
152 x 235 mm 288 pages, 18 photographs, 2 maps
"A must-read for anyone interested in Nicaragua-or in the overall issue of social change."-Margaret Randall, author of SANDINO'S DAUGHTERS and SANDINO'S DAUGHTERS REVISITED Sandinista is the first English-language biography of Carlos Fonseca Amador, the legendary leader of the Sandinista National Liberation Front of Nicaragua (the FSLN) and the most important and influential figure of the post-1959 revolutionary generation in Latin America.
Fonseca, killed in battle in 1976, was the undisputed intellectual and strategic leader of the FSLN.
In a groundbreaking and fast-paced narrative that draws on a rich archive of previously unpublished Fonseca writings, Matilde Zimmermann sheds new light on central themes in his ideology as well as on internal disputes, ideological shifts, and personalities of the FSLN. The first researcher ever to be allowed access to Fonseca's unpublished writings (collected by the Institute for the Study of Sandinism in the early 1980s and now in the hands of the Nicaraguan Army), Zimmermann also obtained personal interviews with Fonseca's friends, family members, fellow combatants, and political enemies.
Unlike previous scholars, Zimmermann sees the Cuban revolution as the crucial turning point in Fonseca's political evolution.
Furthermore, while others have argued that he rejected Marxism in favor of a more pragmatic nationalism, Zimmermann shows how Fonseca's political writings remained committed to both socialist revolution and national liberation from U.S. imperialism and followed the ideas of both Che Guevara and the earlier Nicaraguan leader Augusto Cesar Sandino.
She further argues that his philosophy embracing the experiences of the nation's workers and peasants was central to the FSLN's initial platform and charismatic appeal.
BIC:
1KLCN Nicaragua, BGH Biography: historical, political & military, HBTV Revolutions, uprisings, rebellions, JPF Political ideologies, JPWQ Revolutionary groups & movements