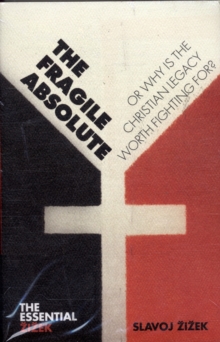 The essential Zizek
1844673278 / 9781844673278
20 cm 4 volumes (various pagings)
Slavoj Zizek's work traverses the fields of philosophy, psychoanalysis, theology, history and political theory, taking in film, popular culture, literature and jokes - all to provide acute analyses of the complexities of contemporary ideology, as well as a serious and sophisticated philosophy.
His recent films "The Pervert's Guide to the Cinema" and "Zizek!" reveal a theorist at the peak of his powers and a skilled communicator.
Now Verso are making these four classic titles, that stand as the core of his ever-expanding life's work, available as new editions.
Each are beautifully re-packaged, including new introductions from Zizek himself.
Simply, they are the essential texts of Zizek's thought and thus Western thought.
BIC: