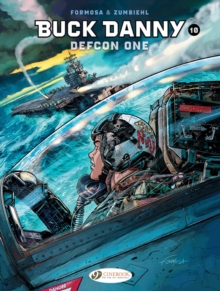 Defcon one
1849184569 / 9781849184564
29 cm 48 pages : chiefly illustrations (colour)
Translated from the French.
Despite the assistance of Japanese Counter Intelligence Agent Suki Nishiwa, Buck and his friends were unable to gather solid proof of tycoon Yamasaki and Lady X's plans to trigger a war between China and the United States.
The only option they have now is to intercept the stealth jets during their attack run on the Chinese carrier - and theirs.
But with Lady X flying the Spectres, and a typhoon coming, can they do it?
BIC: