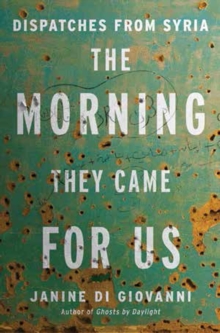 The morning they came for us : dispatches from Syria
0871407132 / 9780871407139
22 cm xvii, 206 pages : maps (black and white)
Originally published: London: Bloomsbury.
Like Imperial Life in the Emerald City, a defining, journalistic portrait of war in Iraq, Seven Days in Syria bears witness to one of the most brutal, internecine conflicts in recent history.
Drawing from years of experience covering Syria for Vanity Fair, Newsweek, and the front pages of the New York Times, award-winning journalist Janine di Giovanni now gives us a masterpiece of war reportage, all told through the perspective of seven ordinary people among them a doctor, a nun, a musician, and a student.
What emerges is an extraordinary picture of the devastating human consequences of armed conflict, one that charts an apocalyptic but at times tender story of life in a jihadist war zone.
Recalling celebrated works by Ryszard Kapu cinski, Philip Gourevitch, and Anne Applebaum, Seven Days in Syria, through its unflinching account of a nation on the brink of disintegration, becomes an unforgettable testament to resilience in the face of nihilistic human debasement."
BIC: