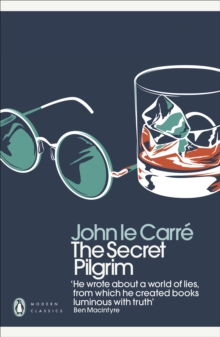 The secret pilgrim
014119636X / 9780141196367
Reprint. Originally published: London: Hodder & Stoughton, 1991.
The eighth of John le Carre's espionage novels to feature his most enduring and well-loved character, George Smiley, and a gripping feat of narrative brilliance, The Secret Pilgrim is published in Penguin Modern Classics with an afterword by the author. The Cold War is over and Ned has been demoted to the training academy.
He asks his old mentor, George Smiley, to address his passing-out class.
There are no laundered reminiscences; Smiley speaks the truth - perhaps the last the students will ever hear.
As they listen, Ned recalls his own painful triumphs and inglorious failures, in a career that took him from the Western Isles of Scotland to Hamburg and from Israel to Cambodia.
He asks himself: Did it do any good? What did it do to me? And what will happen to us now? In this late Smiley novel, the great spy gives his own humane and unexpected answers. If you enjoyed The Secret Pilgrim, you might like le Carre's The Spy Who Came In From the Cold, also available in Penguin Modern Classics. 'Consummate and enthralling'Observer
BIC: