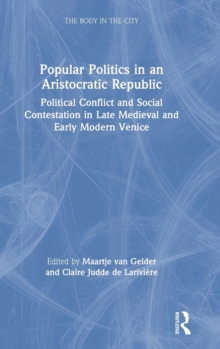 Popular politics in an aristocratic republic : political conflict and social contestation in late Medieval and early modern Venice
0367862271 / 9780367862275
Usually dispatched within 4 weeks
24 cm 252 pages : illustrations (black and white)
Popular Politics in an Aristocratic Republic explores the different aspects of political actions and experiences in late medieval and early modern Venice. The book challenges the idea that the city of Venice knew no political conflict and social contestation during the medieval and early modern periods.
By examining popular politics in Venice as a range of acts of contestation and of constructive popular political participation, it contributes to the broader debate about premodern politics.
The volume begins in the late fourteenth century, when the demographical and social changes resulting from the Black Death facilitated popular challenges to the ruling class's power, and finishes in the late eighteenth century, when the French invasion brought an end to the Venetian Republic.
It innovates Venetian studies by considering how ordinary Venetians were involved in politics, and how popular politics and contestation manifested themselves in this densely populated and diverse city.
Together the chapters propose a more nuanced notion of political interactions and highlight the role that ordinary people played in shaping the city's political configuration, as well as how the authorities monitored and punished contestation. Popular Politics in an Aristocratic Republic combines recent historiographical approaches to classic themes from political, social, economic, and religious Venetian history with contributions on gender, migration, and urban space.
The volume will be essential reading for students of Venetian history, medieval and early modern Italy and Europe, political and social history.
BIC:
HB History, HBJD European history, HBLC1 Medieval history, HBLH Early modern history: c 1450/1500 to c 1700, HBTB Social & cultural history