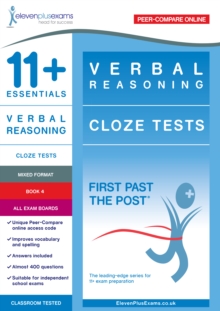 11+ Essentials Verbal Reasoning: Cloze Tests Book 4
1912364794 / 9781912364794
210 x 297 mm, 275 grams 56 pages
Primary Learn More
Children's (6-12)
Revision / study guides
Exams / tests / exercises
A good vocabulary and knowledge of spelling is key to success in all 11 plus and Common Entrance exams, particularly those set by Durham University's Centre for Evaluation and Monitoring (CEM) and Granada Learning (GL).
Cloze tests are passages with missing words or letters which require the child to recognise and select the answer from a set of several options, or to complete the word with the correct spelling.
They are designed to test a child's vocabulary and spelling.
This book covers the three main question styles of cloze tests: Word Bank, Multiple Choice and Partial Words.
There are six tests in each question style, each containing around 25 questions.
The online Peer-Compare system helps identify areas for improvement and gauge progress relative to other children taking the same tests.
For further information about how this system works, see the inside front cover.
Extensively road-tested by the Eleven Plus Exams centre, all First Past the Post 11+ Essentials books are perfect for use both in the classroom and at home.
BIC:
4KDP Standardized educational test, YQC Educational: English language & literacy, YQX Educational: General studies / study skills general, YQZ Educational: study & revision guides