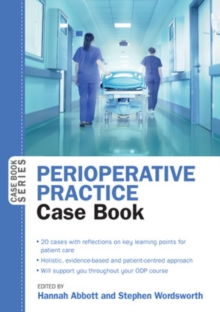 Perioperative practice : case book
0335263461 / 9780335263462
This case book is the ideal text for Operating Department Practitioners (ODPs), as well as student ODPs and nurses preparing to work in perioperative care.
Delivering individualised, holistic and evidence-based care can be challenging in the perioperative setting, requiring the practitioner to apply specialist clinical knowledge to each individual patient.
This text presents 20 interactive case studies that will support the reader in assimilating a wide range of professional knowledge in order to develop a comprehensive plan of care for patients they encounter. The practical cases:* Demonstrate how care will vary depending on the patient's physiological assessment and their personal, social, cultural and emotional needs* Will consolidate the reader's learning around pathophysiology, pharmacology, assessment skills and clinical skills * Include common clinical procedures as well as those that are more complex and require a deeper analysis of the evidence in order to improve patient care. * Use "Stop and Think" boxes to encourage readers to reflect on key points within the case study, in order to develop their own knowledge and assist in their CPDThis text will support all learners, at both pre- and post-registration level as they develop their knowledge of perioperative care.
Its goal is to help the practitioner deliver excellent and confident care in perioperative practice and in other healthcare settings."Although clearly targeted at the student Operating Department Practitioner, Abbott and Wordsworth have produced a learning resource that any learner in the perioperative environment will find both informative and a useful learning aid.
The editors have set out the twenty patient case studies in a sequence that allows the student to work through them as their course and competence progresses, although students can dip into the case studies in any order that supports their current clinical placement. The section introducing perioperative care is essential reading for any perioperative practitioner, with an up-to-date introduction to the latest concepts of teamwork and human factors in patient safety. Coupled with the patient-centred focus of the case studies this provides any reader with an understanding of the changing approach to patient care in the perioperative environment."Bill Kilvington, President, College of Operating Department Practitioners, UK"I have read this book several times and found that the chapter contents are excellent.
This book will be useful for ODPs and theatre nurses, it will enhance their knowledge and skills and may also enhance their abilities to work in operating departments and care well for patients.
The book covers preoperative care, intraoperative care and postoperative care which is essential for all practitioners working in operating departments.
The content of this book is very informative and will be of great use to both students and qualified practitioners.
I find it very impressive and I envisage it to be very useful to all theatre practitioners!"Paul Wicker, formerly Head of Perioperative Studies, Edge Hill University, UK and Visiting Professor, Nanjing University, China.
BIC: