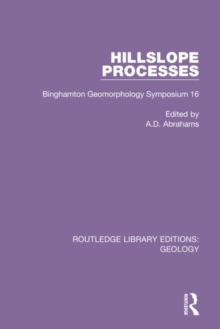 Hillslope processes : Binghampton geomorphology symposium 16
0367464489 / 9780367464486
Usually dispatched within 4 weeks
Reprint. Originally published: Boston: Allen & Unwin, 1986.
This book, first published in 1986, collects the articles presented to the 16th Binghamton Geomorphology Symposium and is a ground-breaking work in the study of hillslope processes.
Hillslope processes are studied in a variety of disciplines other than geomorphology, such as hydrology, pedology, agricultural engineering, civil engineering and engineering geology - the study is truly an interdisciplinary science.
BIC: