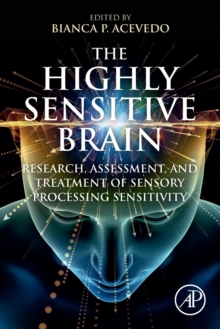 The Highly Sensitive Brain : Research, Assessment, and Treatment of Sensory Processing Sensitivity
0128182512 / 9780128182512
Usually dispatched within 4 weeks
152 x 229 mm, 370 grams 222 pages
The Highly Sensitive Brain is the first handbook to cover the science, measurement, and clinical discussion of sensory processing sensitivity (SPS), a trait associated with enhanced responsivity, awareness, depth-of-processing and attunement to the environment and other individuals.
Grounded in theoretical models of high sensitivity, this volume discusses the assessment of SPS in children and adults, as well as its health and social outcomes.
This edition also synthesizes up-to-date research on the biological mechanisms associated with high sensitivity, such as its neural and genetic basis.
It also discusses clinical issues related to SPS and seemingly-related disorders such as misophonia, a hyper-sensitivity to specific sounds.
In addition, to practical assessment of SPS embedded throughout this volume is discussion of the biological basis of SPS, exploring why this trait exists and persists in humans and other species. The Highly Sensitive Brain is a useful handbook and may be of special interest to clinicians, physicians, health-care workers, educators, and researchers.
BIC:
GTR Cognitive science, JMC Child & developmental psychology, JML Experimental psychology, JMM Physiological & neuro-psychology, biopsychology, JMR Cognition & cognitive psychology, JNC Educational psychology, PSAN Neurosciences