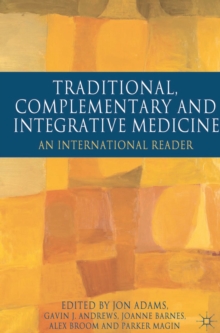 Traditional, complementary and integrative medicine : an international reader
0230232655 / 9780230232655
This authoritative collection is the first wide-ranging overview dedicated to traditional, complementary and integrative medicine (TCIM) and its scientific study.
Compiled by an expert editorial team, it is an essential guide to the vast and ever-growing international literature on TCIM. Contributions come from practitioners and academics drawn from a diverse range of disciplines and professions across the globe.
From perspectives on the significance of TCIM within public health policy to discourses on its influence in fields such as psychiatry and sociology, discrete chapters come together to provide an international map of the contemporary research, key debates and core issues which shape the field. Carefully structured to ensure easy navigation, the reader is divided into three parts: Part A focuses on the consumption of TCIM, including chapters on its use through the life-cycle and within the context of disease and health management; Part B covers considerations for practitioners across the world, taking in issues over ethics, communication and education; Part C features chapters on the role of evidence, research and knowledge production in TCIM and looks at what lies ahead for the field. With its thought-provoking insights and suggestions for further reading, this comprehensive resource provides guidance and inspiration for anyone embarking on study, practice or research within health, nursing or medicine.
BIC: