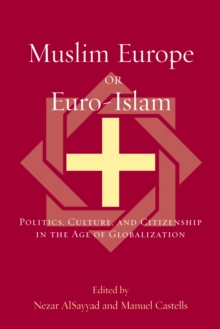 Muslim Europe or Euro-Islam : politics, culture, and citizenship in the age of globalization
0739103393 / 9780739103395
Stock expected by 19/12/2019
Five centuries after the expulsion of Muslims and Jews in Spain, Europe is once again becoming a land of Islam.
At the beginning of the 21st century, and in an era marked as that of globalization, Europe continues to wrestle with the issue of national identity, especially in the context of its Muslim citizens. "Muslim Europe or Euro-Islam" brings together scholars from Europe, the United States and the Middle East in a discussion about the Muslim populations living in Europe and about Europe's role in framing Islam today.
The book raises several crucial questions: does Islam offer a special case for citizenship?; is assimilation or multiculturalism the model to be followed in the case of Muslims in Europe?; how powerful a force is Islam in determining identity?; and most importantly, why after centuries of being a presence in Europe is Islam not considered a European religion?
Working at the knotty intersection of cultural identity, the politics of nations and nationalisms, and religious persuasions, this is an anthology of scholarship that reveals the multifaceted natures of both Europe and Islam.
BIC:
1D Europe, GTB Regional studies, HRH Islam, JFSL1 Ethnic minorities & multicultural studies, JFSR2 Islamic studies