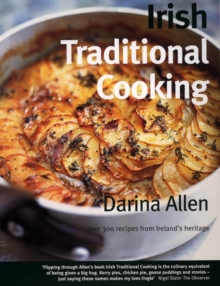 Irish traditional cooking
1856264971 / 9781856264976
Usually dispatched within 2 weeks
Reprint. Originally published: 1995.
Ireland's rich culinary heritage is brought to life in this comprehensive and entertaining appreciation of more than 300 traditional dishes.
Each recipe is complemented by tips, tales, historical insights and common Irish customs, many of which have been passed down from one generation to the next through the greatest of oral traditions.
Darina's fascination with Ireland's culinary heritage gives great detail and breadth to Irish Traditional Cooking.
Sections on Broths & Soups, Fish, Game, Vegetables, and Food from the Wild, illustrate how comprehensive this book is in its treatment of Irish Traditional Cooking.
Darina uses the finest of Ireland's natural produce to give us recipes such as Sea Spinach Soup, Ballymaloe Irish Stew and traditional Irish Sherry Trifle.
The result is a book which will entice you to discover the pleasures of the emerald isle's cuisine.
BIC: