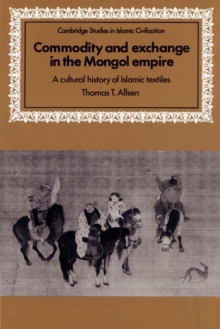 Commodity and exchange in the Mongol Empire : a cultural history of Islamic textiles
0521893143 / 9780521893145
Usually dispatched within 4 weeks
Reprint. Originally published: 1997.
In the thirteenth century the Mongols created a vast, transcontinental empire that intensified commercial and cultural contact throughout Eurasia.
From the outset of their expansion, the Mongols identified and mobilized artisans of diverse backgrounds, frequently transporting them from one cultural zone to another.
Prominent among those transported were Muslim textile workers, resettled in China, where they made clothes for the imperial court.
In a meticulous and fascinating account, the author investigates the significance of cloth and colour in the political and cultural life of the Mongols.
Situated within the broader context of the history of the Silk Road, the primary line in East-West cultural communication during the pre-Muslim era, the study promises to be of interest not only to historians of the Middle East and Asia, but also to art historians and textile specialists.
BIC:
1FB Middle East, 1QDM Mongol Empire, 3H c 1000 CE to c 1500, HBJF1 Middle Eastern history, HBLC Early history: c 500 to c 1450/1500, HBT History: specific events & topics, KND Manufacturing industries