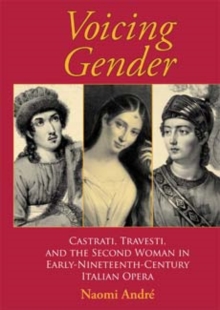 Voicing gender : castrati, travesti, and the second woman in early nineteenth-century Italian opera
025321789X / 9780253217899
Builds on foundational work in feminist musicology while integrating a more conventional approach to historical musicology
The early 19th century was a period of acute transition in operatic tradition and style, when time-honoured practices gave way to the developing aesthetics of Romanticism, the rise of the tenor overtook the falling stars of the castrati, and the heroic, the masculine, and the feminine were profoundly reconfigured.
These transformations resounded in operatic plot structures as well; the happy resolution of the 18th century twisted into a tragic 19th-century finale with the death of the helpless and innocent heroine--and frequently her tenor hero along with her.
Female voices which formerly had sung en travesti, or basically in male drag, opposite their female character counterparts then took on roles of the second woman, a companion and foil to the death-bound heroine rather than her romantic partner.
In Voicing Gender, Naomi Andre skilfully traces the development of female characters in these first decades of the century, weaving in and around these changes in voicings and plot lines, to define an emergent legacy in operatic roles.
Naomi Andre is Associate Professor at the University of Michigan.Trained as a musicologist, her research focuses on nineteenth-century opera and issues surrounding women, gender and voice.
Working within feminist theory, she has examined voice as a sounding phenomena and as a conceptual construct.
Her publications include topics on Italian opera, Schoenberg and women composers.
Current research interests extend to constructions of race, ethnicity, and identity in opera.
BIC:
AVA Theory of music & musicology, JFSJ1 Gender studies: women