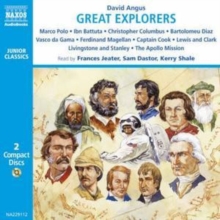 Great Explorers of the World : Marco Polo, Ibn Battuta, Vasco Da Gama, Christopher Columbus, Ferdinand Magellan, Captain Cook, Lewis and Clark, Livingstone and Stanley, the Apollo Mission to the Moon
9626342919 / 9789626342916
Primary & Secondary Education (US: Elementary & High School) Learn More
Here are the stories of nine great adventures and the lives of the men who took part in them.
They pushed back the frontiers of man's knowledge of the world by their vision, courage and sheer doggedness.
They were very different people - from bold adventurers facing the unknown with enjoyment to careful, more scientific individuals.
Their journeys are placed within their historical context, but also contain the words of the men themselves.
BIC:
RGR Geographical discovery & exploration, YQH Educational: History
Title Unavailable: Out of Print