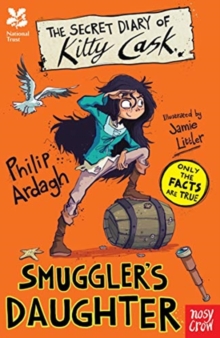 The secret diary of Kitty Cask : smuggler's daughter
1788000579 / 9781788000574
20 cm 176 pages : illustrations (black and white)
At head of cover title: National Trust.
Fact meets fiction in this thrilling story of 18th century smuggling and intrigue!Kitty Cask is a smuggler's daughter.
In the Cornish coastal village of Minnock, Kitty and her family make their living as "free traders" - secretly bringing contraband goods into the country while evading the corrupt Redcoats who work for the King.
Kitty isn't supposed to be involved in any of her father's schemes... but she's very good at creeping out at night, and before too long she is caught in the thick of the action - salvaging shipwrecks, staging prison-breaks, and staying one step ahead of the tyrannical excisemen!With an exciting story and brilliant illustrations, and filled with amazing facts and historical trivia, you won't be able to put this SECRET DIARY down!Read the other books in the series:The Secret Diary of John Drawbridge, Medieval Knight in TrainingThe Secret Diary of Jane Pinny, Victorian House Maid (and Accidental Detective)The Secret Diary of Thomas Snoop, Tudor Boy Spy
BIC:
YFC Adventure stories (Children's / Teenage), YFT Historical fiction (Children's / Teenage), YNH History & the past: general interest (Children's / Teenage)