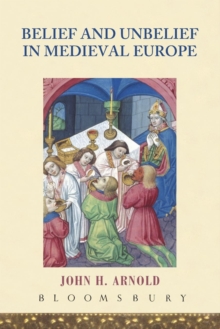 Belief and unbelief in medieval Europe
0340807865 / 9780340807866
Usually dispatched within 4 weeks
Religion in medieval Europe was hugely important, and impinged upon the most mundane transactions and everyday experiences.
But was the period a uniform 'Age of Faith'? By focussing on the ordinary laity, this fascinating account unlocks the multiple meanings of religion, asking how it functioned and with what effects.
Holiness, piety and belief are explained and contextualized, as are heresy, dissent and superstition.
The themes explored include religious acculturation, community, intercession and Christian identity as well as occasions of unbelief and lay people's rejection of the Church's message.
This study deftly uncovers the meanings and struggles that lay below the smooth surface of medieval religious observance for the modern reader.
BIC:
HBG General & world history, HBJD1 British & Irish history, HBLC Early history: c 500 to c 1450/1500, HRCC2 Church history, HRCX Christian institutions & organizations