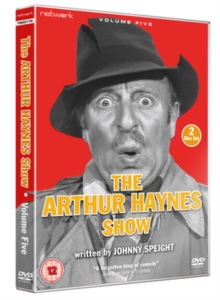 The Arthur Haynes Show: Volume 5
(12) Suitable for 12 years and over.
Fifth volume of episodes from the Johnny Speight-scripted comedy sketch series starring the popular English comedian, Arthur Haynes.
The show, which ran from 1957 until its star's untimely death in 1966, was performed on stage and featured a mixture of sketches, music and guest appearances.
It quickly became one of ITV's biggest successes and established Haynes as a household name, along with his 'straight man', Nicholas Parsons.
The musical guests to appear in the fifth series included The Rolling Stones, The Bachelors and Gerry and the Pacemakers.