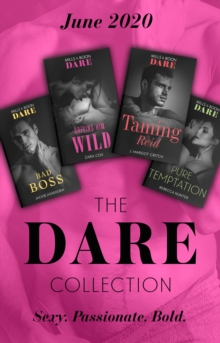 The Dare Collection June 2020
0263281671 / 9780263281675
Stock expected by 13/06/2020
Introduce yourself to Mills & Boon's sexiest series yet!Bad Boss by Jackie AshendenWorking hard...in the bedroom!I'm great with money, but terrible with people.
I need my assistant by my side, but Morgan wants a life, a date, a lover...
So I'll help her explore her darkest desires. From London to the Eiffel Tower I'll satisfy her cravings-but I can't promise more...Driving Him Wild by Zara CoxCan he take the heat?Graciela Mortimer is famously rich, entitled and beautiful...like the woman who broke my heart.
I'm not thrilled about working with her on a remote Alaskan photoshoot.
But when a blizzard snows us in I know it's time to thaw this dominant ice queen's heart...Taming Reid by J.
Margot CritchThey promised to behave...Influencer Lila Campbell's life is filled with posh parties, luxe travel and millions of followers.
But one night with a mouthwateringly gorgeous stranger in Miami's South Beach could destroy it all.
Especially when the man is Reid Rexford-the sexiest, most distrustful man Lila's ever met...Pure Temptation by Rebecca HunterStarted with a kiss...For extreme athlete Daxon Miles, enforced R&R at a Hawaiian resort is agony.
But there's nothing relaxing about physical therapist Kendall Clark.
Their chemistry is volcanic-and dangerous. Daxon is hanging from a precipice and losing his grip-and falling for Kendall might cost him everything...
BIC: