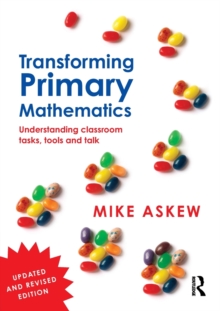 Transforming primary mathematics : understanding classroom tasks, tools and talk (Updated and revised edition)
1138953601 / 9781138953604
25 cm xi, 170 pages : illustrations (black and white)
Postgraduate, Research & Scholarly Learn More
Undergraduate
Fully updated to reflect the new curriculum, the revised edition of Transforming Primary Mathematics sets out key theories and cutting-edge research in the field to enable teachers to take a fresh look at how they teach mathematics.
The book encourages teachers to reflect on their own beliefs and values about mathematics, and asks them to question whether their current methods meet the needs of all learners, and the challenge of having high expectations for all.
It provides clear, practical approaches to help implement fundamental change in classroom environments, and offers motivational teaching styles to ensure meaningful mathematics learning.
Chapters take an inspiring, sometimes controversial, and often unconventional look at the subject of mathematics, by:endorsing the use of a 'new mathematics' - one based on problem solving, modelling, inquiry and reasoning, not on abstract rules, memorising, and regurgitationarguing that there is more to maths teaching than 'death by a thousand worksheets'challenging norms, such as the practice of sorting children into sets based on their perceived mathematical abilityasking whether mathematical ability is innate or a result of social practicesexamining what a 'mastery' approach might entailhighlighting the role of variation in supporting learningadvocating an environment where teachers are encouraged to take risks. Transforming Primary Mathematics is for all primary school teachers who want to make mathematics welcoming, engaging, inclusive and successful.
BIC:
JNLB Primary & middle schools, JNU Teaching of a specific subject, YQM Educational: Mathematics & numeracy